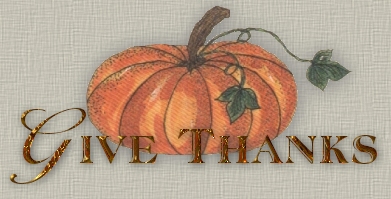 O Lord that lends me life, Lend me a heart replete with thankfulness.
~William Shakespeare~
Thanksgiving Day.... is the one day that is purely American.
~O'Henry 1862-1910~
---
Thanksgiving
The year has turned its circle,
The seasons come and go.
The harvest all is gathered in
And chilly north winds blow.
Orchards have shared their treasures,
The fields, their yellow grain,
So open wide the doorway~
Thanksgiving comes again!
~Old Rhyme~

Thanksgiving Time
When all the leaves are off the boughs,
And nuts and apples gathered in,
And cornstalks waiting for the cows,
And pumpkins safe in barn and bin,
Then Mother says, "My children dear,
The fields are brown, and autumn flies;
Thanksgiving Day is very near,
And we must make thanksgiving pies!"
Author Unkown
The little girl said
As she asked for more:
"But what is the turkey
Thankful for?"
Dorothy Aldis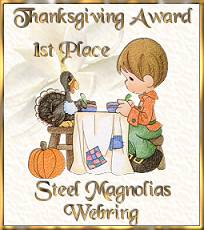 A Thanksgiving wish for all
the Steele Magnolias at Steele Magnolia Webring...*S*
this award is truly special...thank you, I am honored!
---
Let the celebration begin :)


The Children's Table



Southern Cornbread Dressing



The Pilgrim Report


Sign my Guestbook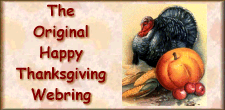 Previous | Next | Index | Random
Site Navigation

A 'simple site index is located here'.