Sweetmamapam's Awards

An award validates all the hard work and determination that goes
into the creating a webpage. Thank You many times over for
the recognition and the encouragement!!
Click on each and every Award found in the following pages...
they will take you to truly outstanding places....*S*
This page is a page that is for my newest awards.
Thank You everyone for their kindness and consideration!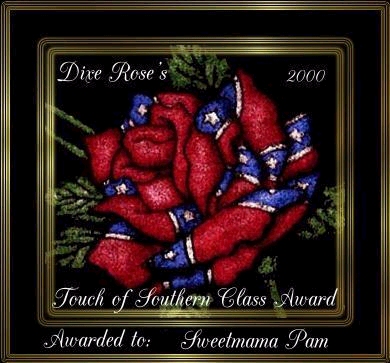 Diane (Dixie Rose) ...I am thrilled beyond words to receive this beautiful award. Thanks so much Sis!!!!
*hugs*

~Da'Bee~ and Nannie!!!
Thanks so much for this great compliment!! I am very pleased to be considered one "y'alls" Sisters..*hugs*

O I Love this award!! I am thrilled to be acknowledged in such a wonderful way!! Thanks, Christina!!
Flo...*hugs*...I am so surprised and pleased to accept these awards from you. Thanks you so much!!!

Sign my Guestbook
Site Navigation
A 'simple site index is located here'.