Yesteryear Logos of
The Atlanta Braves
In 1912 and the profile of an Indian chief in full headdress
(far right) was added to the left sleeve of their uniforms.
The 1946 season was the first year the tomahawk was used.
A screaming indian (Far left and middle) was the mascot
during the 1950-1960's.
In 1962 the tomahawk was no longer used.
It was revived again in 1987.


Beginnings...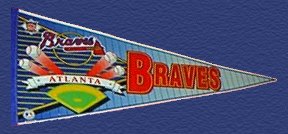 Did you know?
That In 1935, Babe Ruth finished his career in a Braves uniform?
The Braves organization is the only club to win a world championship
in three different cities!
The very first Game: Boston 6, Philadelphia 5 (April 22, 1876)
Andres Galarraga (First Career Home run) 9-21-1985 off of
Kurt Kepshire
The Big Cat becomes the Braves first Baseman at Nov 29th, 1997

Milwaukee Braves
May 5, 1956
Retired Numbers
Hank Aaron 44 (Also retired by
Milwaukee Brewers #44)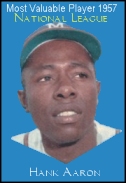 Eddie matthews 41
Dale Murphy 3
Phil Niekro 35
Warren Spahn 21
Hit for the Cycle
Boston Braves
John Bates
04-26-1907
Bill Collins
10-06-1910
Duff Cooley
6-20-1904
Atlanta Braves
Albert Hall
9-23-1987
World Series Champions
1914: Philadelphia, 4 games
1957: N.Y. Yankees, 7 games
1995: Cleveland, 6 games