The music you hear is "Beautiful Boy"
John Lennon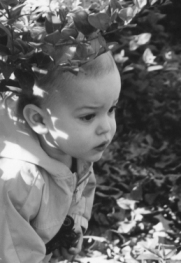 Wednesday's Child
Born: October 13, 1999
Weight: 7 lbs. 1 oz.
Length: 21 inches
Time: 7:00 pm

The above photo was taken early this spring...Jake was visiting and I
had a camera loaded with some black and white film...I love the way these
photos turned out. Below is a photo of jake and his Mom...One of my
favorites. Cary is expecting another baby in May and these quiet moments will
be few and far between for awhile anyway. Priceless *Ü*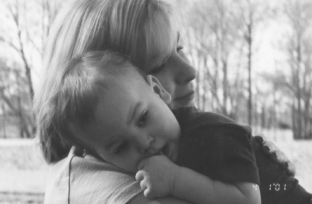 ---
A Grandmother's Prayer
Dear little Baby born today
May God be with you all the way.



Jake's Progress
Jake is now 21 months old. His favorite pastimes are trucks, Bear in the Big Blue House, and books. His Mother did not go back to work after Anna was born and I have seen huge improvements in Jake's progress in such a short time.

He has an extensive vocabulary but is a little hard to understand in some cases. When this happens he has all kinds of ways to make his feelings and intentions known...a tug on the shirt means "come with me"....a pat on the chair means "Come sit here"....cute little words such as "side side" (outside) and "Issie" (our lab, Missie) are easy to understand and endear him to us even more. He loves to drink Danaimals, juice and eat carrots. He is a meat eater and likes the regular fare that most toddlers do...mainly a trip to McDonalds Ü.

MaeMae

LOL...This is what I have been "dubbed". We can only suppose that
calling me Mamapam and calling his Mother 'Mama' was a little confusing so he came up with this derivation himself. I am happy to be a "MaeMae". Truth be known he could have called me anything.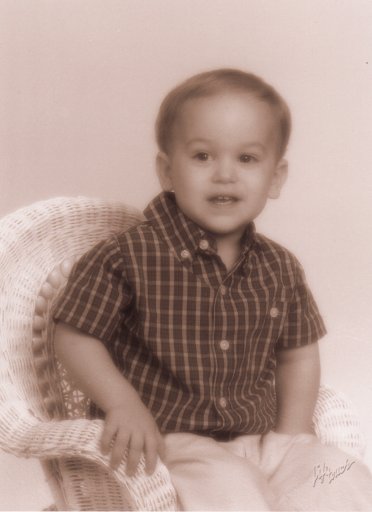 Jake
Autumn 2001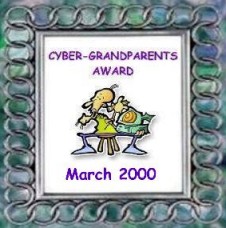 Cyber Grandparents Award for March 2000
I was honored to receive this award for my Sweetmamapam Site. Thanks Grammy Marie and Step Grand-Pa Dan!!

"We especially like your memories and the information about where you live. What wonderful treasures to share with your grandson when he gets older!"
Site Navigation

A 'simple site index is located here'.
The graphics and background on this page
created by Sweetmamapam
Page created October 23, 1999
Updated Nov.1, 1999
Updated February 7,2000
Updated July 30, 2000
Updated (waaaay overdue) January 3, 2001
All Rights Reserved
Powered by counter.bloke.com