Holidays in Mississippi
Special Awards


The following awards and special recognitions mean the world to me......
not only were they indicative of what people thought of my pages but they were
special to my heart because someone took the time to let me know that they
enjoyed my work.Thank you all.....you have been part of my wonderful
experience on the Internet!!!

The first "Special Award" I received for my Holidays in Mississippi pages
was this one from The Season's Greetings Holiday webring. I received it
for the month of January of the New Year!!! Here are Julie's comments:
"Your beautiful site reflects the essence of the holidays
and it is obvious to us that you have worked
long and hard on your pages. Anybody who visits
your site can't help but get into the holiday spirit!
We particularly like your site because it offers so much for so many.
It is easy to navigate, informative, diverse and entertaining."
Thanks Julie and The Season's Greetings Holiday Webring!!!!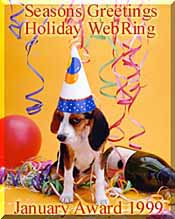 This "Special Award" was presented to me by two women who run the
OHH (Original Happy Holidays) Webring. Thank You!!! Cindy and Diane!
I was more than proud to receive this award and display it!!!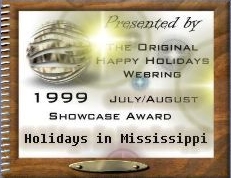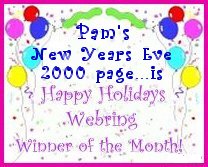 Thanks, Becky at Happy Holidays Webring!!!
I was honored and surprised to win this award...*S*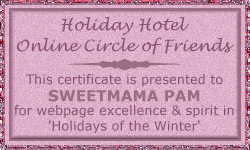 Donna and all the Holiday Circle of Friends....
Thank You!!!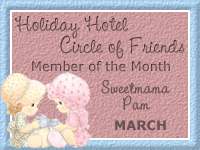 Thanks Donna and The Holiday Hotel!!
SweetMamaPam is one smart cookie
when it comes to wiggling that
mouse around and her website is a
testiment to it!
I was really proud of this. Thanks COF!!
I love my Bracelet, Renee!!
Happy Anniversary Holiday Hotel!!


Return to Holidays in Mississippi