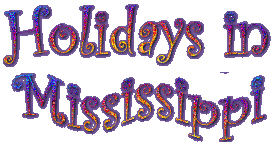 The music you hear is:
"Down on the Corner"
By CCR
Right Click to turn off

...For nature gives to every time and season some
beauties of it's own...
Charles Dickens


Holidays in Mississippi is a collection of holidays that are close
and dear to this Family's heart. Most of our memories are
attached to or enhanced by the holiday of the season.....whether
it be Christmas..Thanksgiving...Halloween....or a birthday of
one of our children. Please join me in a small sampling of those
memories that we have made and those we have yet to experience.
This Navigation Bar will take you to every holiday.... take your time....
browse these pages and celebrate with us.


Non Java Site Index available here.
Oh, and Please let me know you have been here....
sign my guestbook??


More Holiday pages added as they come up
Powered by counter.bloke.com