A very important part of our family is the evening meal. When the
sun sets and everyone begins to arrive home from a full day I really
enjoy having the evening meal on the table or on the stov3
cooking. Of course, we all have our favorites and below are a sampling
of what we all enjoy. One quick reminder....to me Southern cooking
is a little of this and a little of that(most of the time from memory).....
so not all southern cooks cook alike or prefer the same seasonings. So
try a few of these....and hopefully your family will enjoy
these dishes as much as my family does.



1 Large Chicken (I prefer around 41/2-5 pounds)
3 cups self-rising flour
1/3 cup shortening
Milk
Boil the chicken in a large pot with celery leaves and
stalks (one or two),a carrot, and an onion....
this will give the broth a marvelous flavor
Boil chicken 'til meat falls off the bone
Take chicken out of broth and set aside
Remove celery,carrot, and onion, then strain the broth...
I pour into a clean Dutch Oven...Pick the chicken meat
off the bone and put into the broth...
Bring Broth to a boil.

The Dumplins'
While broth and chicken is coming to a boil ...in a bowl measure out flour....cut the shortening into the flour with a fork or a pastry blender. Add milk until you have a sticky dough....
Generously flour a cutting board, countertop...whatever...and put sticky dough on it....play with it a little to just get the sticky out....then take a rolling pin.....covered in flour ....and roll out dough til very thin....this will make a big circle of dough bigger than a meat platter...LOL....I mean thin too...like 1/4 inch
or less...then I rub flour all over the rolled out
dough...with a pizza cutter I cut the dumplins...first in strips then in squares....drop these dumpluns into the boiling water one at the time....when
finished cut the stove down to medium or medium low (depending on your stove...mine is electric)...cook for 15 minutes COVERED...and do not peek!!!!
At the end of fifteen minutes take off lid...turn off dumplins....and break
apart some of bigger dumplins with spoon....sprinkle generously with pepper..put
lid back on and let sit for about 30 minutes.....I tell ya....your family will go wild over this recipe!!!!! REAL Southern Goodness....*S*
For a printable version of Sweetmamapam's
Chicken and Dumplins' click
HERE
Now....the important 'after meal' treat....a piece of virtual chocolate from
my Southern Sister, MAry Bear...no fat, no calories. The perfect
end to a perfect Southern meal!! ENJOY!! (I love this MB!!...How clever!)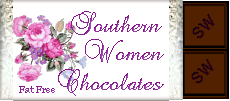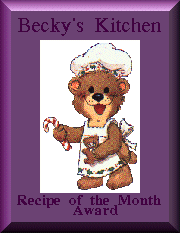 Becky's Kitchen has awarded me her FIRST "BECKY'S KITCHEN" award!
I am truly honored!!!! Thank you, Becky!!!
Click here for my Chili recipe...
It is quick and easy...
No tums needed...*S*

Site Navigation
A 'simple site index is located here'.


Powered by counter.bloke.com

Graphics and contents © Sweetmamapam
page updated February 7, 2000
Page Updated July 31, 2000
All Rights Reserved