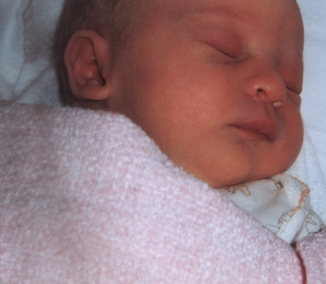 Anna Jayne
Thursday's Child
Born: May 31, 2001
Weight: 8 lbs. 8 oz.
Length: 21 inches
Time: 1:30 pm
---
Anna was born during a driving rain...thunder and lightening....wind. Inside
the hospital...there were four people anxiously awaiting the birth of Anna...
Her Mother, her Father , PopPop and myself. The day had started out with
Cary checking into the hospital early that morning. Labor was induced and
the pains started quickly. By the time noon arrived we knew that it would
not be long. Sure enough 1:30 brought us a snugglie new granddaughter
who was the most beautiful little girl I had ever seen. She was healthy and
Mother and Baby were fine. We had been truly blessed!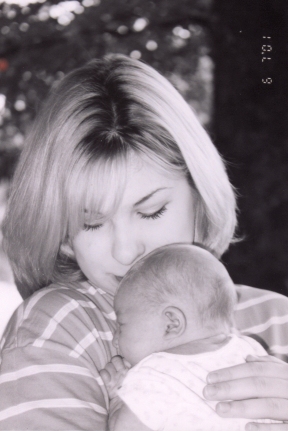 Anna at one week old with Mommy
---
A Grandmother's Prayer
Dear little Baby born today
May God be with you all the way.

Anna's Progress
Anna has been to the pediatrician and had her first round of shots.
She weighed in at a 13 pounds. She had had trouble with her formula and was put on a lactos free product and this seems to agree with her now.

Anna has had a bit of colic and usually around 4:30 in the afternoon her Mom makes the trek with Anna and Jake to my house. We soothe Anna and play with Jake.

Jake has accepted his baby sister with lots of brotherly love. He is very protective of her and wants to know where "Baby" is when he awakes first thing in the morning!!

Anna is 2 1/2 months old now and can coo and smile. She enjoys her bouncing chair and sometimes her swing. After awhile though she is ready for rocking and lullabies.

It seems that Anna likes me to hum "Legends of the Fall". Seems a bit different for a lullaby but this seems to be the one that can calm Anna down...and I love it so we seem to have hit on a great combination.

Update

Anna is almost sitting by herself. She is very sociable and does niot like to be left alone. She enjoyes watching Jake and following his every move. She is eating a well balnced diet of fruits and vegetables. She is sitting alone for short periods of time.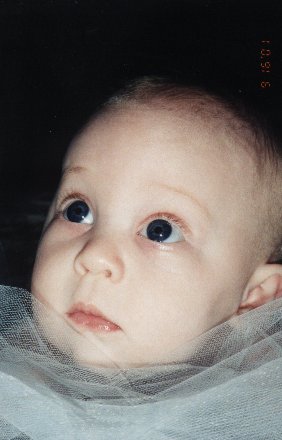 Anna Jayne
Autumn 2001
Site Navigation
A 'simple site index is located here'.
Powered by counter.bloke.com


The graphics and background on this page
created by Sweetmamapam
Page created August 13,2001

All Rights Reserved